Weekly Market Update | February 6, 2023
The Week on Wall Street
Stocks were mixed last week following better-than-expected corporate reports and increasing optimism over a slowdown in interest rates.
The Dow Jones Industrial Average edged lower, slipping -0.15%. The Standard & Poor's 500 rose 1.62% while the Nasdaq Composite index led, picking up 3.31%. The MSCI EAFE index, which tracks developed overseas stock markets, increased by 1.16%.
Rally Continues
Strong earnings reports and encouraging inflation data lifted stocks ahead of the Federal Open Market Committee's (FOMC) decision on Wednesday to hike interest rates by 25 basis points. Markets rallied following the announcement, relieved that the increase was in line with expectations and buoyed by post-meeting comments in which Fed Chair Jerome Powell acknowledged the disinflationary forces in place.
Fresh earnings reports fueled further gains, with positive earnings surprises from several big-name technology companies that benefited the larger universe of Nasdaq-listed high-growth companies. Disappointing earnings from three mega-cap tech companies and a strong employment report triggered a Friday pull-back, paring the week's gains.
Another Rate Hike
The Federal Reserve raised interest rates by 0.25%, signaling to the financial markets that it would likely hike rates by another 25 basis points at its next meeting in late March. Fed officials said the slowdown in rate hikes might provide time to assess the impact of the accumulated rate hikes. The Fed retained language in its post-meeting statement that future rate hike plans were unchanged to discourage investors' hopes of an imminent pause in the rate-hike cycle.
In his post-meeting press conference, Fed Chair Powell reiterated the Fed's commitment not to declare victory on inflation prematurely but acknowledged that a disinflationary trend was underway.
Key Economic Data
Thursday:  Jobless Claims.
Friday: Consumer Sentiment.
Source: Econoday
Companies Reporting Earnings
Tuesday: Fortinet, Inc. (FTNT), Chipotle Mexican Grill, Inc. (CMG).
Wednesday: CVS Health Corporation (CVS), Prudential Financial, Inc. (PRU), The Walt Disney Company (DIS).
Thursday: AbbVie, Inc. (ABBV), PayPal Holdings, Inc. (PYPL), PepsiCo, Inc. (PEP), Kellogg Company (K), Expedia Group, Inc. (EXPE), O'Reilly Automotive, Inc. (ORLY).
Source:Zacks.com
"A man's legacy is defined by time."
– John Cena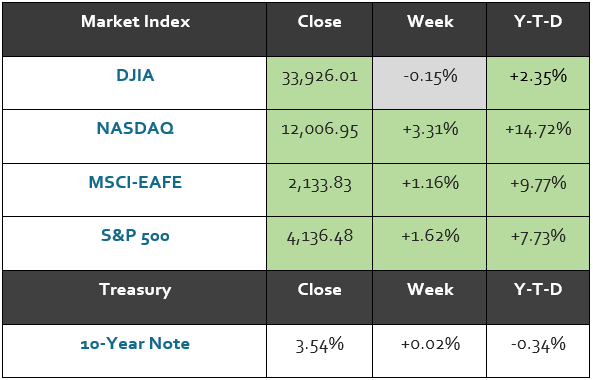 Sources: The Wall Street Journal, February 3, 2022; Treasury.gov, February 3, 2022
Weekly performance for the Dow Jones Industrial Average, Standard & Poor's 500 index, and NASDAQ Composite is measured from the close of trading on Friday, January 27 to Friday, February 3 close. Weekly performance for the MSCI-EAFE is measured from Friday, January 27, open to the Thursday February 2, close. Weekly and year-to-date 10-year Treasury note yields are expressed in basis points.

What Is Clean Beauty?
What you put on your body is just as important as what you put in your body! This is why more people are choosing clean skincare and beauty products. Clean ingredients are better for the environment and often more gentle on your skin.
Clean beauty products don't contain synthetic chemicals and ingredients that could harm your body or irritate your skin. Some of these synthetic ingredients include:
Parabens
Phthalates
Oxybenzone
Synthetic fragrances
And many more
The exact definition is somewhat undefined, but the movement is becoming increasingly popular as people focus on healthy, environmentally-friendly options for their bodies, homes, and family.
Tip adapted from FOREO

Sweet Potato Soup with Feta and Za'atar Oil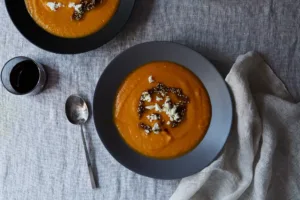 Servings: 6-8
1/4 cup plus 2 tablespoons olive oil
2 tablespoons za'atar (see headnote)
1 tablespoon butter
1 onion, peeled and diced
1 carrot, peeled and diced
1 leek, white part only, rinsed thoroughly and diced
5 medium sweet potatoes, peeled and cut into 1″ cubes
6 cups water
2 cups chicken stock
1 bay leaf
1 tablespoon salt
1/4 cup feta cheese
Directions:
In a small pot, combine ¼ cup olive oil and the zaatar. Cook over medium heat until hot, but take care not to burn the zaatar. Set aside for at least one hour to cool and infuse.
In a large pot, heat the butter and remaining olive oil over medium high heat. When the butter has melted, add the onion, carrot, and leek, and cook until softened, about five minutes. Add the sweet potato cubes and sauté for another minute. Add the water, stock, and bay leaf, and bring to a boil. Once the soup begins to boil, lower to a simmer and cook for 30 minutes. Check to make sure the sweet potatoes are completely soft. If not, continue cooking until they are.
Remove the bay leaf and puree the soup using a regular or immersion blender. Check the seasoning and add the salt (you may need more or less depending on what type of stock you used). Ladle out the soup into individual bowls. Crumble some feta into each bowl, and drizzle each bowl with some of the zaatar oil.
Recipe adapted from food52.com

How Many Balls Should You Carry?
Tiger points out that he likes to have 9-12 golf balls in the bag to start the round. I think that's a good number as it won't weigh down your golf bag but still give you plenty of back ups. Plus even if you lose a few and need to swap your golf balls due to scuffs, you have extra.
I've known others to treat their golf bag like a hoarding paradise and keep 2-dozen golf ball, which isn't the right move. This makes your bag significantly heavier and takes up a ton of pocket space too. While it's okay to keep extra in your country club locker or trunk of your car, don't carry that many in your bag.
Tip adapted from theleftrough.com

Finding The Goldilocks Tax Withholding
Just like how Goldilocks had to try the porridge that was too hot and then the one that was too cold before she found one that was just right, you need to find the amount of tax withholding that's not too much or too little for your circumstances. No one wants a bad surprise when Tax Day comes, and having the proper withholding can help you avoid these surprises.
You should especially check your withholding after a significant life change, such as a marriage, divorce, new child, a move, or major changes in the tax law.
How much should you withhold? The Tax Withholding Estimator on the IRS website can help people determine if they have too much income tax withheld and how to adjust.
* This information is not intended to be a substitute for specific individualized tax advice. We suggest that you discuss your specific tax issues with a qualified tax professional.
Tip adapted from IRS.gov
Photo of the Week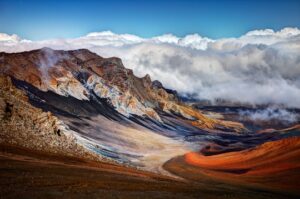 Haleakala National Park, Maui, Hawaii 
Financial planning and investment advisory services offered through Cleveland Wealth, LLC, a Registered Investment Advisor. Information presented is for educational purposes only and does not intend to make an offer or solicitation for the sale or purchase of any specific securities, investments, or investment strategies. Investments involve risk and unless otherwise stated, are not guaranteed. Be sure to first consult with a qualified wealth advisor and/or tax professional before implementing any strategy discussed herein. Past performance is not indicative of future performance.