Weekly Market Update | November 27, 2023
The Week on Wall Street
Investor enthusiasm for stocks remained strong last week, buoyed by declining bond yields in a holiday-abbreviated trading week.
The Dow Jones Industrial Average picked up 1.27%, while the Standard & Poor's 500 gained 1.00%. The Nasdaq Composite index rose 0.89% for the week. The MSCI EAFE index, which tracks developed overseas stock markets, was flat (+0.03%).
Falling Yields Lift Stocks
The stock market continued to look toward the bond market for direction, responding positively to bond yields that fell steadily for much of the week. A successful 20-year Treasury notes auction on Monday triggered a decline in bond yields. The release of the minutes from the Fed's last meeting buoyed investor optimism that the potential for further rate hikes was diminishing.
Investor sentiment was also lifted by the earnings results from a leading mega-cap, AI-enable chipmaker that topped analysts' expectations, bolstering the narrative of AI's potential to help corporate profits. Despite a higher turn in bond yields on the final half-day of trading, stocks retained the week's gains.
Fed Minutes
Minutes from the October 31–November 1 meeting of the Federal Open Market Committee were released last week, providing insight into its decision not to raise rates and its thinking on the future direction of interest rates.
The minutes reflected concerns by committee members that inflation remained stubborn and may move higher. The minutes also reaffirmed the messaging of many Fed officials, including Fed Chair Powell, that monetary policy must remain restrictive until they are convinced inflation will be on track for the Fed's two percent target. They further said that future rate decisions will be based on fresh economic data, offering no indication that a rate cut was forthcoming, as many analysts are increasingly anticipating for 2024.
Key Economic Data
Monday: New Home Sales.
Tuesday: Consumer Confidence.
Wednesday: Gross Domestic Product (GDP).
Thursday: Personal Income and Outlays. Jobless Claims.
Friday:  Institute for Supply Management (ISM) Manufacturing Index.
Source: Econoday
Companies Reporting Earnings
Wednesday:  Dollar Tree, Inc. (DLTR), Synopsys, Inc. (SNPS)
Thursday: Salesforce, Inc. (CRM), Marvell Technology, Inc. (MRVL), Dell Technologies, Inc. (DELL)
Source:Zacks.com
"Don't be afraid of perfection. You will never attain it."
– Salvador Dalí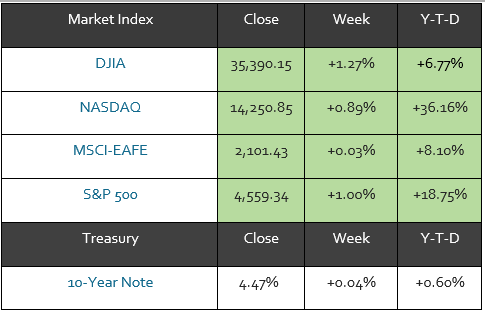 Sources: The Wall Street Journal, November 24, 2023; Treasury.gov, November 24, 2023
Weekly performance for the Dow Jones Industrial Average, Standard & Poor's 500 index, and NASDAQ Composite is measured from the close of trading on Friday, November 17 to Friday, November 24 close. Weekly performance for the MSCI-EAFE is measured from Friday, November 17 open to the Thursday, November 23 close. Weekly and year-to-date 10-year Treasury note yields are expressed in basis points.

Hydrate The Healthy Way
Trying to kick a soda habit, but are sick of water? There are lots of fun and healthy ways to make your water taste better to encourage yourself to drink more! Here are some easy ways to spice up your normal water:
Add slices of fresh fruit, such as lemons, limes, or oranges. Not only will these fresh fruits make your water taste better, but you may also enjoy some of the powerful benefits of these citrus powerhouses.
Add some sliced cucumber to your water to instantly feel like you're being pampered. Who needs the spa when you have a nice glass of cucumber water sitting at your desk?
Try some sugar-free, low-calorie water sweeteners. This is a great option for those of us who have a sweet tooth and crave soda, but are trying to drink more water instead.
Mix it up with sparkling water or seltzer if you really miss the fizz of soda. Most sparkling waters are calorie-free or low in calories and they keep you hydrated.
You should be drinking at least half of your bodyweight in ounces of water a day. What are some of your favorite ways to make water more exciting?
Tip adapted from Baton Rouge Clinic

Red-Wine-Braised Short Ribs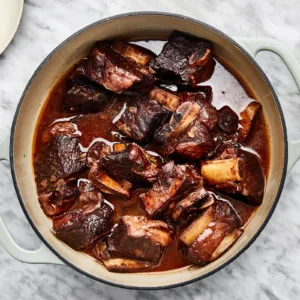 Servings: 6
Ingredients:
5 lb. bone-in beef short ribs, cut crosswise into 2″ pieces
Kosher salt and freshly ground black pepper
3 Tbsp. vegetable oil
3 medium yellow onions, chopped
3 medium carrots, peeled, chopped
2 celery stalks, chopped
3 Tbsp. all-purpose flour
1 Tbsp. tomato paste
1 750-ml bottle dry red wine (preferably Cabernet Sauvignon)
10 sprigs flat-leaf parsley
8 sprigs freesh thyme
4 sprigs fresh oregano
2 sprigs fresh rosemary
2 fresh or dried bay leaves
1 head of garlic, halved crosswise
4 cups low-sodium beef stock
Directions:
Preheat oven to 350°. Season short ribs with salt and pepper. Heat oil in a large Dutch oven over medium-high. Working in 2 batches, brown short ribs on all sides, about 8 minutes per batch. Transfer short ribs to a plate. Pour off all but 3 Tbsp. drippings from pot.
Add onions, carrots, and celery to pot and cook over medium-high heat, stirring often, until onions are browned, about 5 minutes. Add flour and tomato paste; cook, stirring constantly, until well combined and deep red, 2–3 minutes. Stir in wine, then add short ribs with any accumulated juices. Bring to a boil; lower heat to medium and simmer until wine is reduced by half, about 25 minutes. Add all herbs to pot along with garlic. Stir in stock. Bring to a boil, cover, and transfer to oven.
Cook until short ribs are tender, 2–2½ hours. Transfer short ribs to a platter. Strain sauce from pot into a measuring cup. Spoon fat from surface of sauce and discard; season sauce to taste with salt and pepper. Serve in shallow bowls over mashed potatoes with sauce spooned over.
Recipe adapted from Bon Appetit

How to Hit a Shot with a Golf Ball Partially Submerged in Water
Have you ever hit a shot tat went a little bit off-line, only to walk up to see it under water just a couple inches into the pond or creek?
If the ball is just barely under the surface of the water, you might be able to save a shot or two by hitting it out.
First, you have to know if it's possible.
If half of the golf ball is under the water line and half is above, then you can probably hit a good shot and advance it a little ways
If the ball is fully submerged, but the top of the ball is right at the water line, then you can probably still blast it out of the water a short distance
If the ball is farther under the water than that, you probably ought to take the penalty stroke and move on
To hit this shot, think of it a lot like a bunker shot.
You're going to want to take a more lofted club, probably a sand wedge, and open up the face.
Then, put the ball back in your stance a little bit and swing really steep into the back of the golf ball.
You want the club to enter the water as close to the back of the golf ball as possible.
Also, you're going to want to swing pretty hard. The water is going to provide some resistance slowing your club head down quite a bit. So, to make sure you don't lose too much power, swing hard.
As you swing, make sure to get your weight moving forward. The tendency in this situation is to fall backwards, but don't let that happen.
Tip adapted from theleftrough.com

Start A New Business Off On The Right Foot
Starting a new business? There are some important tax tips to know to set yourself up for success. Here are some tips that the IRS shares for new business owners:
Choose the right business structure: The form of business determines which income tax return a business taxpayer needs to file. The most common business structures are a sole proprietorship, a partnership, a corporation, an S corporation, and an LLC.
Apply for an Employer Identification Number (EIN): An EIN is used to identify a business. Most businesses need an EIN.
* This information is not intended to be a substitute for specific individualized tax advice. We suggest that you discuss your specific tax issues with a qualified tax professional.
Tip adapted from IRS.gov
Photo of the Week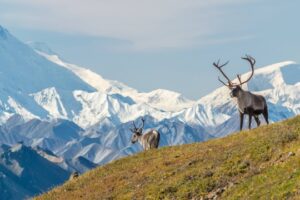 Majestic caribou bull in front of Mount Denali, Alaska.
Financial planning and investment advisory services offered through Cleveland Wealth, LLC, a Registered Investment Advisor. Information presented is for educational purposes only and does not intend to make an offer or solicitation for the sale or purchase of any specific securities, investments, or investment strategies. Investments involve risk and unless otherwise stated, are not guaranteed. Be sure to first consult with a qualified wealth advisor and/or tax professional before implementing any strategy discussed herein. Past performance is not indicative of future performance.